A three-day Design Thinking session in which students, led by designers and experts, reflect on concrete circular challenges faced by SMEs of the Euregion. The potential of a particular waste stream is explored through workshops, presentations, brainstorming and pre-prototyping.
It is less about formulating speculative scenarios for a distant future, and more about generating innovative concepts that can be applied to an SME. The objective of the bootcamp is to design at least 6 concrete concepts after 3 days, which can be further developed in the trajectories.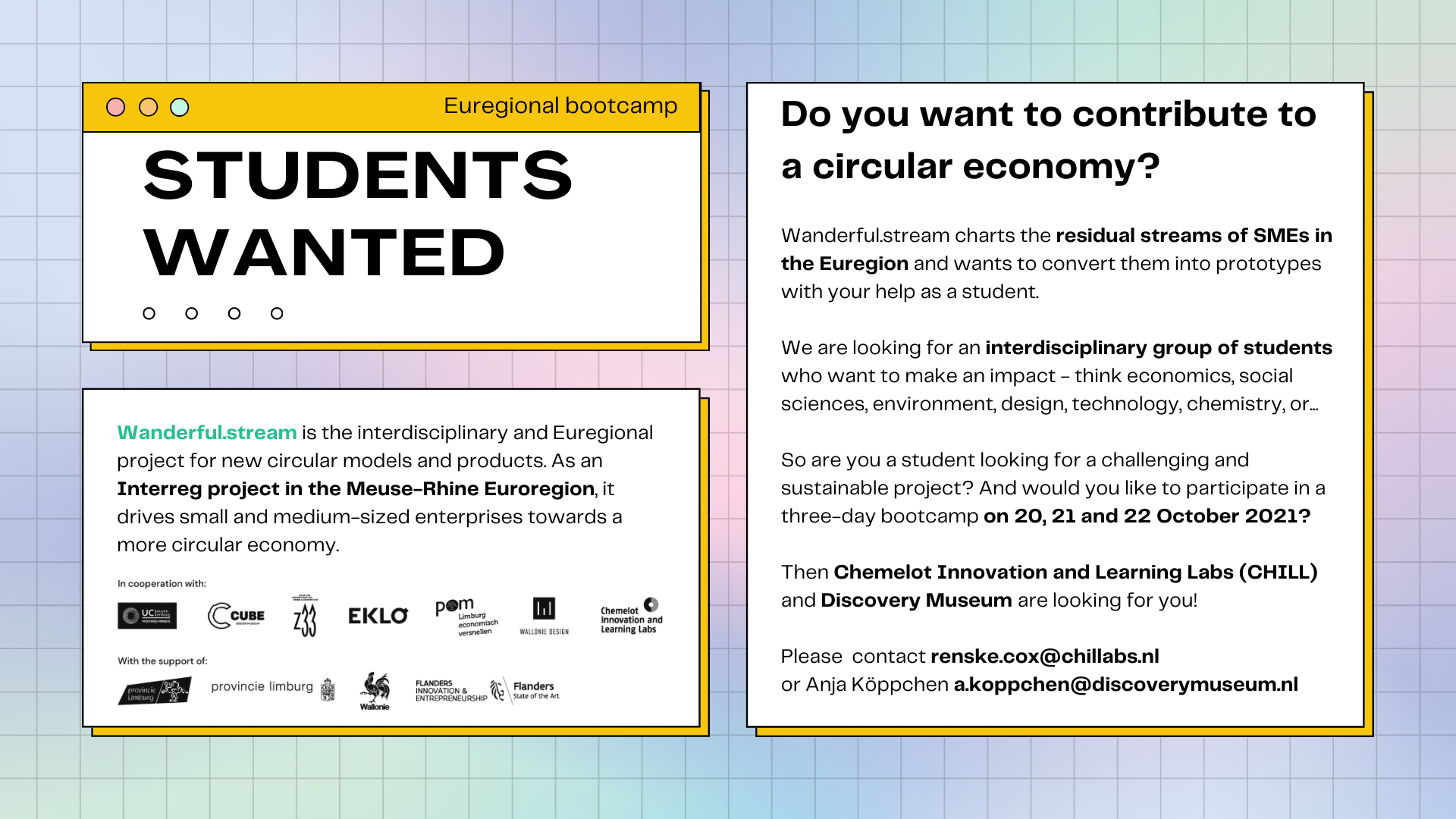 Examples of challenges:
How can a pallet trader ensure that disposable and/or broken pallets are not burnt? What could be made of this A-grade waste wood?
How do we ensure that event locations do not have to throw away all the floor covering? How might this become a circular product?
Coffee groundsare a valuable raw material that is often burnt. You can grow fungi on it, but we don't need that much. What else could we do with this raw material?
Do you want to find new solutions for waste streams?
Programme:
Company visitearly October to get to know the entrepreneur and his/her challenge
Online Euregional Kickoff – 15 October 12:00h to 13:30h
3-day Bootcamp – 20-21-22 October at the Discovery Museum in Kerkrade, including coffee/tea and lunch You will work in multi-disciplinary student teams through guided design thinking sessions. Experts in the field of Design, Technology and Business will guide you through the design process.
Online Final Event – 9 November 19:00h Euroregional presentations of the best ideas to the jury
What's in it for you?
Contribute to the sustainability of Europe.
Build and grow your network among sustainability experts and SMEs in the region.
Develop new knowledge about the process of creating new raw materials and/or products.
Interested to join or want to know more?
Please contactRenske Cox renske.cox@chillabs.nl or Anja Köppchen a.koppchen@discoverymuseum.nl