Plastic is very versatile and also spotty cheap to produce, no wonder it is so widely used. But once produced, it never perishes! And therefore it does not belong in our environment. Plastic production boomed since 1950. For this reason, there is accumulation or accumulation of plastic: in fact, more and more is released into the environment. Plastic also accumulates in certain places due to rain, wind or sea currents or simply in places where plastic waste is dumped.
During the Plastics Masterclass, we want to give an insight into what is happening in the region around waste collection and plastic waste in particular. In what way will this waste be repurposed? Which new innovations can counter this waste? And what challenges do entrepreneurs and enterprises face?
At the Masterclass, we want to involve everyone who can play a role in plastic valorisation. Who knows, maybe new connections will emerge during the subsequent networking event, which might lead to a Euroregional circular model. Whether coffee will be served? Of course, but in biodegradable coffee cups.
Bram van Roon, Head of Policy at Cleaning Services Rd4
Bram van Roon is Head of Policy at Cleaning Services Rd4 and has worked in the waste and resources sector for 20 years. Partly responsible for halving the amount of residual waste in South Limburg and converting it into usable raw materials. Where raw materials are becoming increasingly scarce, we continue to look for innovative ways to further optimise waste collection, encourage recycling, advise residents and close chains together with all supply chain partners.
Raymond De Schrevel, Business Development @EXTR:ACT e.V.
EXTR:ACT is a young pan-European association founded by the Big Five of the beverage carton industry: TetraPak, EloPak, SIG combiblock, BillerudKorsnäs and Stora Enso with its headquarters centrally in Frankfurt am Main (DE). EXTR:ACT coordinates and supports actors in the recycling value chain, aiming to facilitate and optimise collection, sorting and recycling systems for beverage cartons and other paper-based multi-materials (PBMM). Within a few years, EXTR:ACT will become the European platform and competence centre for Paper Based Multi-Material Recycling.
Raymond De Schrevel is an experienced and strategic developer/innovator with a proven track record in the renewable energy, waste recovery and circular economy markets. Skilled at finding Blue Oceans, creating effective(sustainable) energy concepts, taking an integrated approach to the essence of life: energy, water and waste (materials) and ultimately: making things happen…
Chris Twigg – Chief Technical Officer at Atlantis Rubber Powders BV
Chris has 38 years' experience in the rubber industry and has worked in capacities of technical, production and general management in the South African rubber industry. He co-founded two rubber roller recovering operations from 2000 to 2005. Thereafter he moved back to Europe and in 2006 was invited to join DSM Elastomers (now Arlanxeo) as an applied rubber technical expert. He joined Black Bear Carbon as a co-founder in 2011 with the shared vision of producing high quality recovered carbon black (rCB) from end-of-life tyres. In 2019 he co-founded Atlantis Rubber Powders BV with the shared vision of producing Functionalized Micronized Rubber Powder (FMRP), facilitating the mass re-use of waste tires into new tires.
Bas Latten, Founder Chief Executive Officer at CYCLUPS
CYCLUPS is a sustainable company, born out of a passion for diving, which focuses on CO2 reduction, plastic reduction and litter reduction in collaboration with Platinum Partner Chemelot. Thus, they came up with wheat straws as an alternative to plastic straws and a strong natural and biodegradable product. Since its successful launch in several continents and international markets, Cyclups has continued to develop and now offers cutlery, ice cream scoops, redeveloped straws and natural wheat straw straws.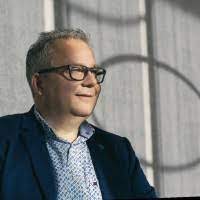 Ron Lambi, Business Development Manager CHILL
Getting students to work with teachers and clients from industry to solve innovation issues. That idea was first shaped by Zuyd University of Applied Sciences in Zuydlab, the predecessor of CHILL. In 2011, from the Dutch Top Sector Policy and with the help of its founding fathers, CHILL got the chance to take this idea out of the school setting. And to be organised in a place close to students' future professional practice: on the Brightlands Chemelot Campus, in the heart of Europe's first Circular Hub.
The Campus proved the ideal setting to grow into the premier connector of business and education in chemistry. We linked learning questions from educational institutions such as Zuyd Hogeschool, Vista College and Maastricht University to innovation questions from start-ups, SMEs and large companies. One such facility within CHILL is a unique pilot of a recycling line that can mechanically process 500 kilos of plastic waste per hour, which you can visit with Ron Lambi.
*ATTENTION
This Masterclass will take place at the Brightlands Chemelot Campus. Specific security procedures apply on this site about which you will receive another email. To meet all regulations, we will close registrations for this event on Monday morning, 17 October so register here please.
Keep in mind that every visitor needs a personal QR code to enter the Brightlands Chemelot Campus. Do you carpool with others? Great. Then be sure to report all codes on arrival.